SUPERIOR — I love prom stories! They're pretty similar year after year, but it's fun to see a new group of students marching toward their dreams.
Reporter Maria Lockwood has a story about a graduate of the Douglas County Treatment Court. Jonathan Crabtree (41) is the latest winner of the program.
We also have photos from the University of Wisconsin-Superior Commencement, which was held on Saturday, May 20th.
Here are the rest of this week's headlines:
Getting your hands dirty
Hudson Bonneville, 3, and his sister Harper Bonneville, 4, dig a path through the sand for a rubber duck to travel down at the Lake Superior National Estuarine Research Reserve table during science night at Four Corners Elementary School on Tuesday, May 23. tilted the table and poured water on it, the duck reached the bottom.
Maria Lockwood / Superior Telegram
Four Corners Elementary School hosted Science Night on Tuesday, May 23, with all kinds of hands-on activities. Children launched paper rockets; dug a stream in the dirt (see above) to see if a rubber duck could float when water was added; and watched eggs fall out of the bucket of a huge truck.
Compiled masterpieces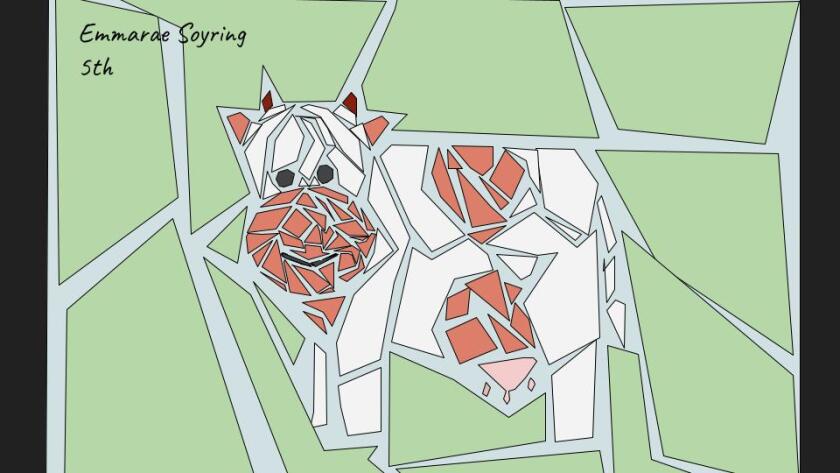 A digital mosaic of a cow created by Emmarae Soiring, a fifth-grader at Northern Lights Elementary School.
Contributed / Shanna Lancour, Elementary Visual Arts Teacher
On this month's Superior School District Youth Page, we have some fun stories for you to check out:
Northwestern's Ellie Peterson (4) finishes in the first inning of the Tigers' playoff game with Baron in Brule on Tuesday afternoon, May 23.
Jed Carlson / Superior Telegram
Northwestern pitcher Ellie Peterson dominates in the circle and in the batter's box.
At the time of writing, the sophomore was 17-3 with a 0.75 ERA and 238 strikeouts and was batting .516 with 28 RBIs.
And with the postseason underway, be sure to visit superiortelegram.com for the latest prep sports updates.
More stores to check out:
Editor's Note: The Douglas County Dispatch is a newsletter I publish every Friday morning. Consider subscribing – it's free – and it only arrives in your inbox once a week.
You can apply here.
By Jen Zettel-Vandenhouten
Jen Zettel-Vandenhouten is a regional editor for Duluth Media Group, which oversees Cloquet Pine Magazine and the Superior Telegram.